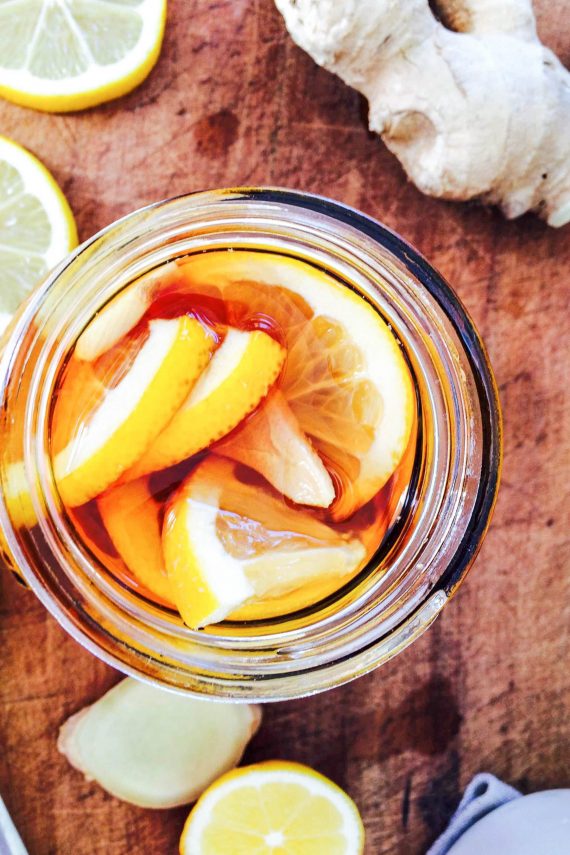 Ingredients
Imperial Units

|

Metric Units
Servings:
(about 1 tbsp per serve)
Lemon Ginger Syrup
125
pure maple syrup (you might need a little bit more)*
* See the FODMAP Tips, Dairy Tips and Gluten Free Tips for the ingredient notes above the method.
Equipment
Soothing Hot Lemon Ginger Drink (Low FODMAP)
Winter is upon us in New Zealand and so many people are battling with colds or flu. This means it's time to rug up warm with a soothing ginger and lemon infused hot maple drink, which is the perfect low FODMAP alternative to traditional hot lemon and honey beverages.
Gluten Free Option
Low FODMAP
Dairy Free
Egg Free
Nut Free
Soy Free
MAKE GLUTEN FREE
SHOW NUTRITION
Nutrition per serve
NON-DAIRY FREE

|

DAIRY FREE

|

GLUTEN FREE
---
Love this recipe? Get your weekly meal plans.
FREE TRIAL
Method

|

FODMAP tips

|

Gluten Free tips

|

Dairy Free tips
---
Method
Wash and slice the lemon.
Peel and slice the ginger. If you love ginger then you can add more to your mixture if you desired.
Place the lemon and ginger into the glass jar in layers. Then pour over the maple syrup until the ingredients are covered.
Place in the refrigerator for at least 12 hours to allow the flavours to infuse.
Give the lemon ginger syrup a gentle mix (the maple syrup will settle to the bottom). Then scoop a spoonful into a mug and add hot water. Enjoy!
Over time the mixture might go a little bit jelly like and that's okay, just give it a quick stir before using. This syrup should keep for several weeks in the refrigerator.
Buying Tips
Make sure you use pure maple syrup (low FODMAP) not maple flavoured syrup (potentially high FODMAP).
Gluten Free Tips
Dairy Free Tips