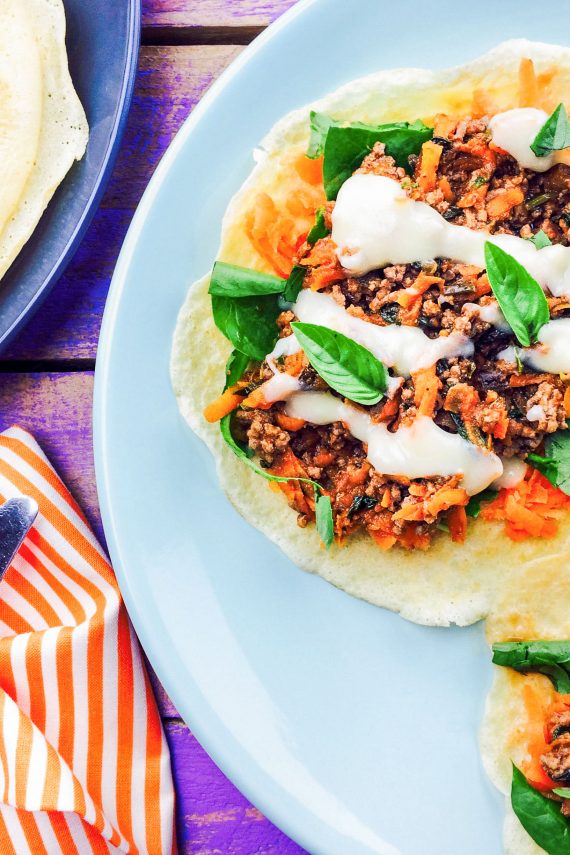 Ingredients
Imperial Units

|

Metric Units
Servings:
Mini Crepes
2
dairy free spread (olive oil spread or butter) (melted)*
140
gluten free all purpose flour*
Savoury Mince
40
leek (green tips only)*
400
plain crushed/chopped tomatoes (canned)*
0.5
worcestershire sauce*
Mustard Sauce
1
gluten free all purpose flour*
250
low FODMAP chicken stock*
* See the FODMAP Tips, Dairy Tips and Gluten Free Tips for the ingredient notes above the method.
Equipment
large frypan
medium frypan
small saucepan
Mini Crepes with Savoury Mince & Mustard Sauce
Need a new brunch idea? Try my low FODMAP mini crepes with savoury mince & mustard sauce. My mustard sauce is the perfect way to tasty up savoury crepes. This meal is a little bit fiddly so you can do some of the prep in advance. If you want to enjoy this meal for breakfast during the week, then you can make your savoury mince, mustard sauce, and crepe batter in advance, and keep in the fridge for up to four days. Then you can cook your crepes as you go and reheat your mince and mustard sauce as needed.
Note on Worcestershire sauce: Worcestershire sauce is low FODMAP in small serves despite containing onion and garlic. The fructans in the onion and garlic are fermented as the worcestershire sauce is manufactured, which reduces the FODMAP content to a safe level. You can find out more about worcestershire sauce and the low FODMAP diet here.
Gluten Free Option
Low FODMAP
Dairy Free
Nut Free
Soy Free
MAKE GLUTEN FREE
SHOW NUTRITION
Nutrition per serve
NON-DAIRY FREE

|

DAIRY FREE

|

GLUTEN FREE
---
Love this recipe? Get your weekly meal plans.
FREE TRIAL
Method

|

FODMAP tips

|

Gluten Free tips

|

Dairy Free tips
---
Method
Prepare!
Prepare the crepe batter. Melt the dairy free spread (olive oil spread or butter). Then whisk the eggs in a small bowl. Place the dairy free spread (olive oil spread or butter), eggs, soy protein milk (lactose free milk or low FODMAP milk alternative), gluten free all purpose flour, and salt in a large bowl and whisk until smooth (or blend in a blender).
Peel and grate the carrots. Finely chop the spinach. Finely chop the green leek tips. Open the can of tomatoes.
In a small saucepan, start the mustard sauce. Whisk the white sugar and egg together. Then add the mustard powder, gluten free all purpose flour, white vinegar, and chicken stock. Whisk and place to one side.
Cook
You are going to cook several dishes at once... which requires a little bit of skill. So read through the instructions below before you start.
Place a large frypan on to heat over medium-high heat. Add the neutral oil, green leek tips and the lean ground beef. Fry the lean ground beef until browned, stirring occasionally. Then add half of the spinach and carrot (save the rest for serving), the crushed tomatoes, dried herbs (basil, oregano, thyme), worcestershire sauce, and season with salt and pepper. Mix well. Turn the heat down to medium-low and allow to simmer while you finish making the crepes.
While the lean ground beef cooks, make the crepes. Heat a medium sized frypan over medium-high heat. Lightly oil the frypan with spray oil. Pour or scoop 60ml (1/4 cup) of crepe batter into the frypan. Quickly tilt the pan in a circular motion to cover the frypan base with batter. Cook the crepe for about 2 minutes per side, flip once the bottom is light brown. Then repeat. Keep the crepes warm in the oven. Add more spray oil as needed. The batter should make about 8 small crepes.
While the crepes and lean ground beef cook, allow the mustard sauce to thicken. Place the small saucepan over medium-low heat. Allow to thicken, stirring occasionally.
Serve the savoury mince in the crepes with a little bit of grated carrot and spinach. Drizzle the crepes with the mustard sauce and garnish with a small handful of basil.
Buying Tips
Make sure you buy a leek that has long green tips (this is the low FODMAP part), as you can't use the white/light green leek bulb (this part is high FODMAP).
Monash University have tested Worcestershire sauce and it is low FODMAP, despite containing small amounts of onion and garlic. The sauce is low FODMAP because the onion and garlic are fermented during the manufacturing process which reduces the FODMAP levels.
Buy a gluten free plain flour or gluten free all purpose flour. The one I used contains these ingredients: maize starch, rice flour, tapioca starch, rice bran, & guar gum. Avoid flour blends that contain soy flour, chickpea/besan/gram/garbanzo bean flour, lentil flour, coconut flour, amaranth flour, or lupin flour.
Choose plain canned tomatoes with no added herbs or spices. Check there is no added onion or garlic.
Choose a stock that does not include onion or garlic. We prefer to use Massel Chicken Stock Cube 7's (in the yellow & blue packet). This product is low FODMAP, gluten free and vegan (despite it's name) and each packet makes 7 cups of stock. This product can be brought online around the world and is available from some supermarkets.
Gluten Free Tips
Buy a gluten free Worcestershire sauce or substitute 1 tablespoon gluten free soy sauce, 1/4 teaspoon Chinese five spice, and 1/2 tsp brown sugar for every tablespoon of Worcestershire sauce. Often the ingredient labels don't state they are gluten free, so if the ingredients look safe then ring the manufacturer to confirm.
Herbs and spices are naturally gluten free, however they can become contaminated during manufacturing processes. If you are highly sensitive to gluten, check the dried herbs and spices do not contain a warning for trace gluten. If you are just on the low FODMAP diet you do not need to worry about this.
Dairy Free Tips
Use a dairy free spread or olive oil spread instead of butter. Butter is considered low FODMAP.