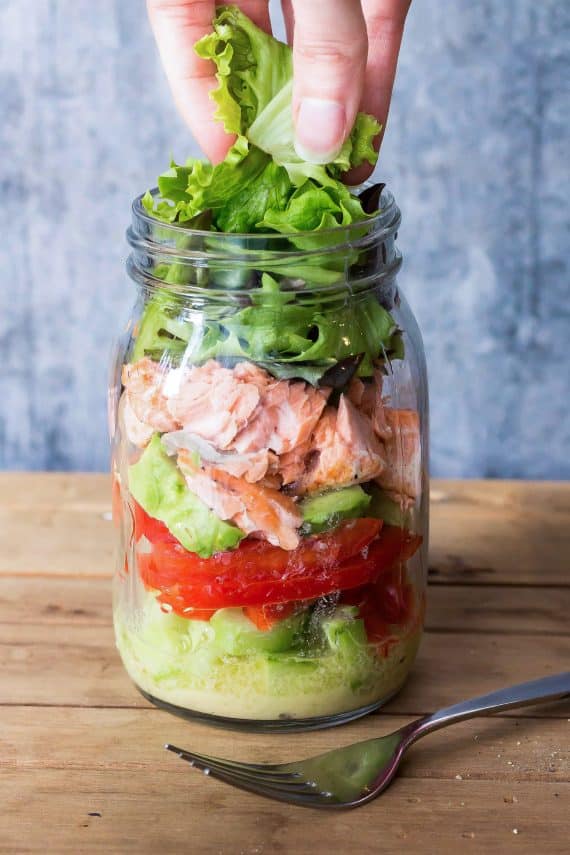 Ingredients
Imperial Units

|

Metric Units
Servings:
Mustard Dressing
Other Ingredients
70
fresh salmon fillets (remove the bones)
0.5
red bell peppers (deseeded & diced)
60
small cucumber (diced)
1
lettuce (butter, iceberg, red coral) (shredded)
* See the FODMAP Tips, Dairy Tips and Gluten Free Tips for the ingredient notes above the method.
Low FODMAP Mustard Salmon Mason Jar Salad
Fresh flavours, crunchy ingredients and packed full of omega 3… this Mustard Salmon Mason Jar Salad is perfect and makes for a guilt free lunch.
FODMAP note: Avocado is low FODMAP in 30g serves and can be enjoyed during the first phase of the low FODMAP diet. We recommend you weigh your avocado or limit yourself to 1 to 2 tablespoons (tbsp = 15ml).
Gluten Free Option
Low FODMAP
Dairy Free
Egg Free
Nut Free
Soy Free
MAKE GLUTEN FREE
SHOW NUTRITION
Nutrition per serve
NON-DAIRY FREE

|

DAIRY FREE

|

GLUTEN FREE
---
Love this recipe? Get your weekly meal plans.
LEARN MORE
Method

|

FODMAP tips

|

Gluten Free tips

|

Dairy Free tips
---
Method
Pre-heat the oven to 200ºC (390ºF) on bake function. Place the salmon fillet in a small oven proof dish. Remove any bones with tweezers. Drizzle with neutral oil and rub with salt and pepper. Bake for 10-12 minutes or until the salmon is cooked. Remove from oven.
While the salmon cooks mix together the mustard dressing and prep the cucumber, red capsicum/bell pepper, lettuce and avocado. Add a small squeeze of lemon juice over the avocado to stop it browning.
Once the salmon has cooled, shred with a fork.
Then place in a mason jar (preserving jar) in this order: mustard dressing, cucumber, red capsicum/bell pepper, avocado, salmon, lettuce.
When you're ready to eat shake the jar to coat in dressing then eat with a fork or transfer to a bowl. Enjoy!
Buying Tips
Make your lemon juice and lemon zest from fresh lemon.
Small amounts of avocado are low FODMAP. Just make sure you limit your serve to 1/8th of an avocado or 20g.
Check your mustard does not contain onion or garlic powder.
Gluten Free Tips
Herbs and spices are naturally gluten free, however they can become contaminated during manufacturing processes. If you are highly sensitive to gluten, check the dried herbs and spices do not contain a warning for trace gluten. If you are just on the low FODMAP diet you do not need to worry about this.
Dairy Free Tips