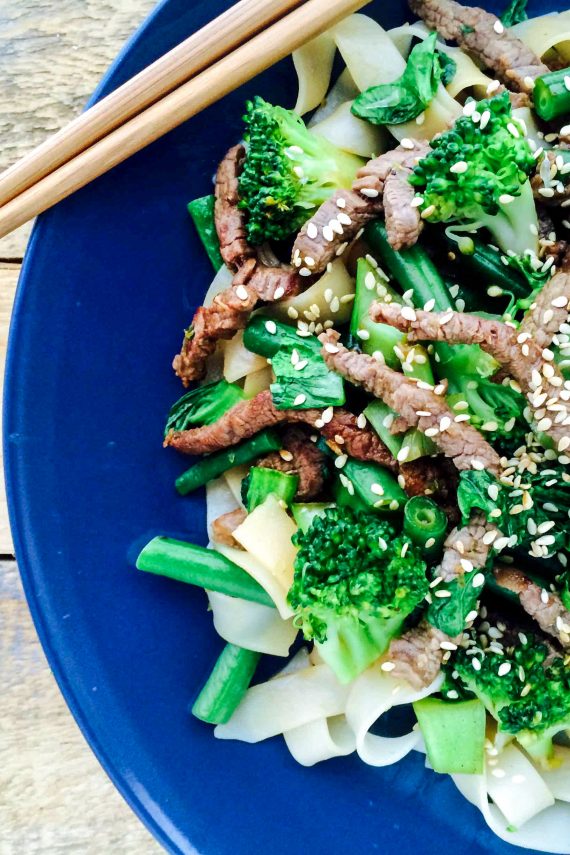 Ingredients
Imperial Units

|

Metric Units
Servings:
Beef Marinade
500
beef schnitzel (sliced super-thinly across the grain)
2
large lime (zested - save the juice)
Noodles
180
broccoli (cut into small pieces)*
160
green beans (cut into small pieces)
Stir-Fry
1
neutral oil (rice bran, canola, sunflower)
2
Thai fish sauce (nam pla)*
120
baby spinach (washed & shredded)
10
green onions/scallions (green tips only, finely sliced)*
2
sesame seeds (toasted)*
fresh lime juice (saved earlier in recipe)
* See the FODMAP Tips, Dairy Tips and Gluten Free Tips for the ingredient notes above the method.
Equipment
large saucepan
microplane (for zesting)
large frypan or wok
Lime & Sesame Beef Stir-fry
This quick and easy low FODMAP beef stir-fry has a refreshing lime twist combined with Asian flavours.
FODMAP notes: Broccoli is considered low FODMAP at  ½ cup to 1 cup serves depending on which part of the broccoli you are eating (Monash, 2017). The amount of broccoli in this recipe is low FODMAP providing you divide it into the recommended number of serves.
Gluten Free Option
Low FODMAP
Dairy Free
Egg Free
Nut Free
MAKE GLUTEN FREE
SHOW NUTRITION
Nutrition per serve
NON-DAIRY FREE

|

DAIRY FREE

|

GLUTEN FREE
---
Love this recipe? Get your weekly meal plans.
FREE TRIAL
Method

|

FODMAP tips

|

Gluten Free tips

|

Dairy Free tips
---
Method
Prep the beef schnitzel by thinly slicing it across the grain. Zest the limes using a microplane (grater) – the trick is to only zest the bright green layer and not the white layer underneath. Cut the broccoli and green beans into small pieces. Finely chop the green onions/scallions (green tips only).  Place the beef schnitzel in a medium sized bowl and add the lime zest, soy sauce, and sesame oil. Leave to marinate while you cook the thin rice noodles.
The rice noodles need to be cooked according to packet directions in a saucepan of salted water (remove 1 or 2 minutes early to avoid overcooking). Add the broccoli and green beans to the noodles for the last two minutes of cooking. Then tip into a colander, cool under warm water, and drain well. While the noodles cook, toast the sesame seeds in a small pan over medium heat (no oil needed) while constantly stirring, remove from heat as they start to brown. Place them aside for later.
Prepare the spinach by washing and shredding.
Heat the neutral oil in a large wok or fry pan over high heat and stir-fry the beef for 1 minute. Add the fish sauce, water, and spinach and stir-fry for another minute. Add the drained noodles, green beans, broccoli, green onions/scallions (green tips only), and toasted sesame seeds. Toss over high heat for 1 minute. Remove from heat and mix in the juice from the limes. Serve immediately with a couple of grinds of black pepper and salt if needed.
Buying Tips
Buy a bunch of green onions/scallions with long green tips. You can use the green tips of the green onions/scallions (which are low FODMAP) and not the white stem when cooking.
The amount of wheat in regular soy sauce is low FODMAP, however if you are feeling concerned you can buy gluten free soy sauce (Tamari).
Broccoli is low FODMAP in 1 cup serves according to Monash University. Just avoid larger serves as these can become high FODMAP.
Gluten Free Tips
If you are highly sensitive to gluten, check all packaged products, processed meat (like bacon), nuts, seeds and dried fruit do not contain a warning for trace gluten. If you are just on the low FODMAP diet you do not need to worry about this.
Dairy Free Tips