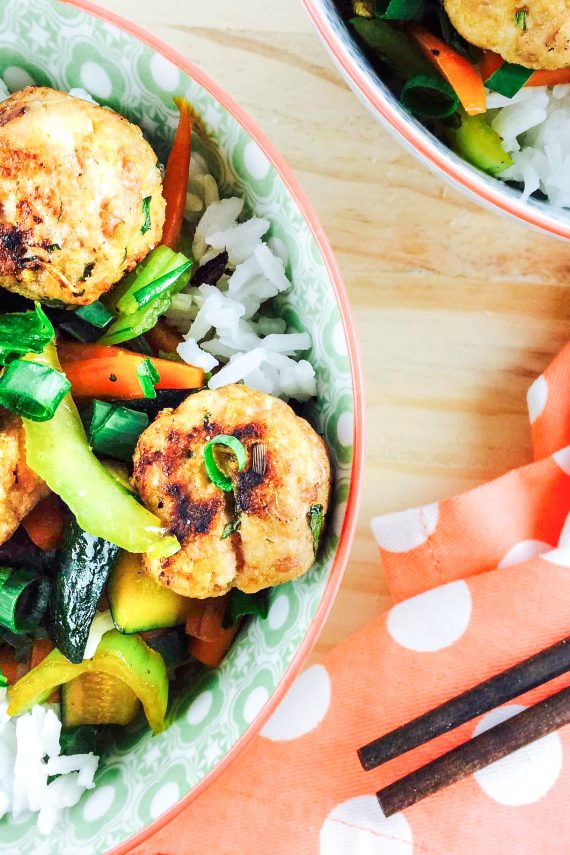 Ingredients
Imperial Units

|

Metric Units
Servings:
Pork Meatballs
0.25
dried chilli flakes (optional)*
2
fresh lemongrass (peeled & chopped)*
57.5
gluten free breadcrumbs*
1
large eggs (lightly beaten)
1
neutral oil (rice bran, canola, sunflower)
Stir-Fry Veggies
23
fresh ginger (cut into matchsticks)
10
green onions/scallions (green tips only, finely sliced)*
340
bok choy (pak choi) (washed & sliced)
240
carrot (cut into matchsticks)
Rice
262.5
long grain white rice or basmati rice
* See the FODMAP Tips, Dairy Tips and Gluten Free Tips for the ingredient notes above the method.
Equipment
Lemongrass & Cilantro Pork Meatballs
These low FODMAP lemongrass and cilantro pork meatballs are an easy meal the whole family will love! This recipe was one of the first recipes I created and was originally called spicy pork meatballs. I have updated this low FODMAP recipe to make sure it provides you with the best flavours possible.
Gluten Free Option
Low FODMAP
Dairy Free
Nut Free
MAKE GLUTEN FREE
SHOW NUTRITION
Nutrition per serve
NON-DAIRY FREE

|

DAIRY FREE

|

GLUTEN FREE
---
Love this recipe? Get your weekly meal plans.
LEARN MORE
Method

|

FODMAP tips

|

Gluten Free tips

|

Dairy Free tips
---
Method
Finely chop the fresh cilantro and green onions/scallions (green tips only). Peel the coarse outer layers off the lemongrass stalks and then finely chop the soft inner core. Peel the ginger and slice into thin matchsticks. Peel and cut the carrot into thin matchsticks. Roughly slice the bok choy (both the green leaves and white stem). Place ingredients to one side until needed.
In a small bowl beat the egg until well mixed. In a large bowl place the lean ground pork, fresh cilantro, lemongrass, chilli flakes, brown sugar, gluten free breadcrumbs, garlic infused oil, and egg. Season with salt and pepper. Then mix well using your hands. Roll into bite sized balls (should make about 6 per serve). Place on  microwave proof plates.
In large saucepan, cook the rice according to packet directions.
Place the the meatballs into the microwave one plate at a time. Cook each plate on high for about 1 minute 30 seconds. This will cook the inside of the meatballs.
Heat neutral oil in a large frypan or wok on medium heat. When hot fry the meatballs until they are golden brown on all sides and cooked through.
Once the meatballs are cooked, you can stir-fry the veggies. Place the same frypan/wok over high heat. Add the sesame oil, ginger, carrot and green onions/scallions (green tips only), and cook until fragrant (1 to 2 minutes). Then add the bok choy (pak choi), soy sauce and water. Stir fry for 1 to 2 minutes and serve immediately with pork balls and rice.
Buying Tips
Buy gluten free burger buns, bread, and wraps that do not contain any high FODMAP ingredients like inulin, apple or pear juice, apple fibre, concentrated fruit juices, honey, or high fructose corn syrup. Also check what low FODMAP flours have been used, avoid gluten free products that contain amaranth flour, lupin flour, chickpea/besan/gram/garbanzo bean flour, lentil flour or large amounts of soy flour or coconut flour.
Garlic infused oil is found in the oil section of your local supermarket. It should be clear with no floating bits of garlic. You can also make garlic infused oil at home by frying garlic cloves in cooking oil, until they are golden and fragrant (then remove the garlic before you continue cooking your meal). This is a low FODMAP way to capture the garlic flavour as the fructans can't leach into the oil.
Fresh lemongrass is found with the fresh herbs in the chilled section of the vegetable aisle. Avoid using lemongrass paste as it often contains lactose or onion/garlic powder.
Buy a bunch of green onions/scallions with long green tips. You can use the green tips of the green onions/scallions (which are low FODMAP) and not the white stem when cooking.
Check your dried chilli flakes do not contain onion or garlic powder.
The amount of wheat in regular soy sauce is low FODMAP, however if you are feeling concerned you can buy gluten free soy sauce (Tamari).
Gluten Free Tips
Herbs and spices are naturally gluten free, however they can become contaminated during manufacturing processes. If you are highly sensitive to gluten, check the dried herbs and spices do not contain a warning for trace gluten. If you are just on the low FODMAP diet you do not need to worry about this.
Dairy Free Tips