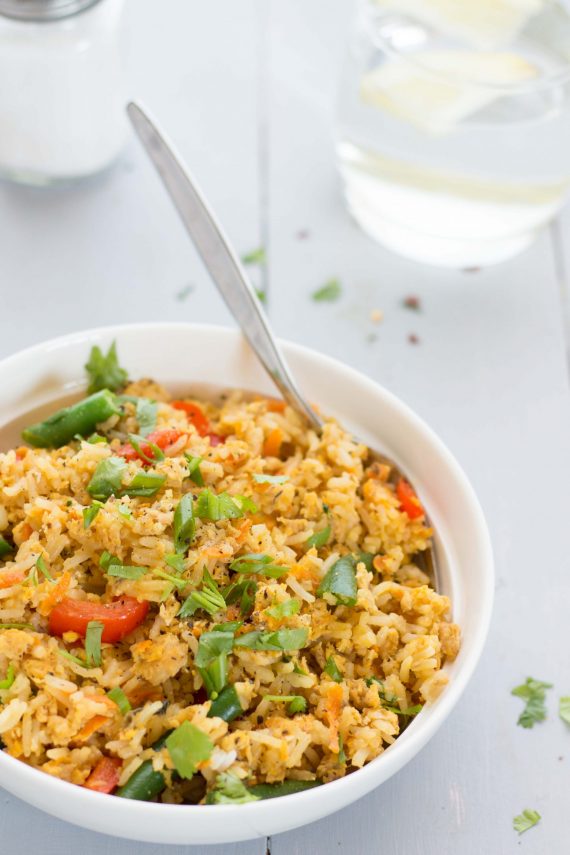 Ingredients
Imperial Units

|

Metric Units
Servings:
Easy Salmon Fried Rice
1
red bell peppers (deseeded & sliced)
1
carrots (large, peeled & grated)
20
green onions/scallions (green tips only, finely sliced)*
2
crushed ginger (or fresh grated ginger)*
210
plain pink salmon (canned)*
2
Thai fish sauce (nam pla)*
200
long grain white rice or basmati rice (OR 2 cups precooked rice)
* See the FODMAP Tips, Dairy Tips and Gluten Free Tips for the ingredient notes above the method.
Equipment
large frypan
medium saucepan
Easy Salmon Fried Rice
This easy low FODMAP salmon fried rice is one of my favourite lunch time dishes! It is easy to make and the grated carrot gives the dish a slightly sweet flavour. Tinned salmon (with bones) is an excellent source of calcium, especially for those of us who do not tolerate dairy products. If you are feeling lazy you can use precooked rice from the supermarket, which will almost halve the amount of time it takes to make the recipe. 

Gluten Free Option
Low FODMAP
Dairy Free
Nut Free
MAKE GLUTEN FREE
SHOW NUTRITION
Nutrition per serve
NON-DAIRY FREE

|

DAIRY FREE

|

GLUTEN FREE
---
Love this recipe? Get your weekly meal plans.
FREE TRIAL
Method

|

FODMAP tips

|

Gluten Free tips

|

Dairy Free tips
---
Method
If you are not using precooked rice then place the uncooked rice on to cook according to packet directions.
Prepare the vegetables by deseeding and slicing the red bell pepper into strips, peel and grate the carrot, finely cut the green onions/scallions (green tips only), and cut the green beans into pieces. If using fresh ginger peel and grate it.
Heat a large non-stick frypan over medium heat. Add the sesame oil and garlic infused oil. Fry the crushed ginger and green onions/scallions (green tips only) until fragrant (about 1 to 2 minutes). Add the red bell pepper and fry for 1 minute until it starts to soften. Open and drain the canned salmon. Then add the grated carrot, green beans, and tinned salmon to the frypan and stir until the salmon is broken into small pieces. Turn heat down to medium low. Add the fish sauce. Crack the eggs into the frypan and continuously mix them through the other ingredients until the egg cooks.
If using precooked rice heat according to packet directions. Then add the precooked rice or the freshly cooked rice to the frypan. Stir through the soy sauce. Remove from heat once all the ingredients have heated through. Season with salt and pepper if desired.
Serve hot and in bowls.
Buying Tips
Garlic infused oil is found in the oil section of your local supermarket. It should be clear with no floating bits of garlic. You can also make garlic infused oil at home by frying garlic cloves in cooking oil, until they are golden and fragrant (then remove the garlic before you continue cooking your meal). This is a low FODMAP way to capture the garlic flavour as the fructans can't leach into the oil.
Check the crushed ginger does not contain garlic. Crushed ginger is grated ginger that has been preserved in a jar. You can swap it for fresh ginger if you prefer.
Make sure you buy plain canned salmon that doesn't have added high FODMAP ingredients like onion or garlic. You can use fresh salmon if you prefer, but you will need to cook it first.
Buy a bunch of green onions/scallions with long green tips. You can use the green tips of the green onions/scallions (which are low FODMAP) and not the white stem when cooking.
The amount of wheat in regular soy sauce is low FODMAP, however if you are feeling concerned you can buy gluten free soy sauce (Tamari).
Gluten Free Tips
If you are highly sensitive to gluten, check all packaged products, processed meat (like bacon), nuts, seeds and dried fruit do not contain a warning for trace gluten. If you are just on the low FODMAP diet you do not need to worry about this.
Dairy Free Tips