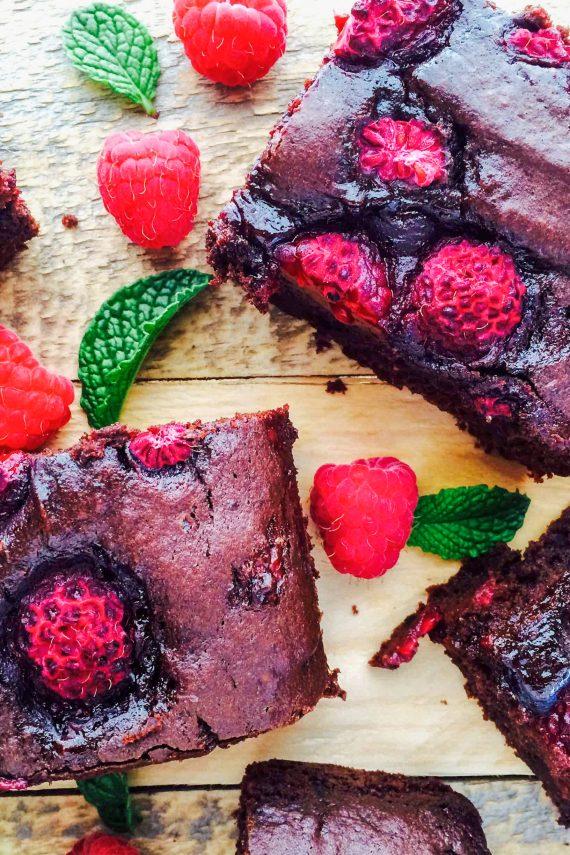 Ingredients
Imperial Units

|

Metric Units
Servings:
Dark Chocolate & Raspberry Brownie
250
dairy free spread (olive oil spread or butter)*
140
gluten free self raising flour*
1.5
guar gum (or xanthan gum) (or 1 tsp chia seeds mixed with 2 tsp boiling water)*
200
raspberries (fresh or frozen)
* See the FODMAP Tips, Dairy Tips and Gluten Free Tips for the ingredient notes above the method.
Equipment
large saucepan
baking tin 20cm by 30cm (12 inch by 8 inch)
Dark Chocolate & Raspberry Brownie
This low FODMAP dark chocolate and raspberry brownie is a decadent treat for the holiday season. It is perfect to take to parties, serve with Christmas dinner, or store in the freezer for unexpected guests.
How To Make Self Raising Flour: Don't worry if you can't find self raising flour - you can make your own! Take 1 cup of gluten free all purpose flour and mix it with 1 & 1/2 teaspoons of baking powder and 1/2 a teaspoon of salt. Mix these ingredients together in a bowl before using in the recipe.
Gluten Free Option
Low FODMAP
Dairy Free
Nut Free
MAKE GLUTEN FREE
SHOW NUTRITION
Nutrition per serve
NON-DAIRY FREE

|

DAIRY FREE

|

GLUTEN FREE
---
Love this recipe? Get your weekly meal plans.
LEARN MORE
Method

|

FODMAP tips

|

Gluten Free tips

|

Dairy Free tips
---
Method
Heat oven to 180ºC (355ºF) bake function. Line a 20 x 30cm baking tin with baking paper.
Heat a large saucepan over low heat. Add the dark chocolate, brown sugar and dairy free spread (olive oil spread or butter) to the saucepan. Make sure you stir the ingredients as they melt to ensure the chocolate doesn't stick and burn. Once smooth and well combined remove from the heat and whisk in the four eggs.
In a separate bowl mix together the gluten free self raising flour, cocoa powder, and guar gum/xantham gum (if using chia seeds you need to mix them with hot water and then add to them to the wet ingredients and not the dry mixture). You might want to sieve the baking mix and cocoa if it is very lumpy.
Then pour the dry ingredients into the melted chocolate mixture and stir until well combined. Then fold through half the raspberries.
Scoop the mixture into the baking tin and spread evenly around the tin. Then scatter the remaining raspberries across the top.
Place in the middle of the oven and cook for 30 minutes. Once removed from the oven, the top of the brownie should be spongy and shouldn't wobble too much. If the brownie is undercooked, place it back in the oven for a further 5 to 10 minutes. Cool before slicing. This brownie should last for up to three days in an air tight container, or you can freeze it and serve at a later date.
Buying Tips
Choose a dark chocolate that doesn't contain inulin or high FODMAP sweeteners like honey, high fructose corn syrup, agave syrup or fructose. Also avoid dark chocolate that contains high FODMAP fruit or nuts.
Guar gum or xanthan gum help gluten free baking to stick together and rise. They are often found in the gluten free section of the supermarket or in a health food store.
Make sure the self raising flour is gluten free. I used one made from a mixture of rice flour, maize starch, tapioca starch, sugar, raising agents (450, 500), vegetable gum (Xanthan). Avoid flour blends that contain soy flour, chickpea/besan/gram/garbanzo bean flour, lentil flour, coconut flour, amaranth flour, or lupin flour.
Gluten Free Tips
Dairy Free Tips
Use a dairy free spread or olive oil spread instead of butter. Butter is considered low FODMAP.