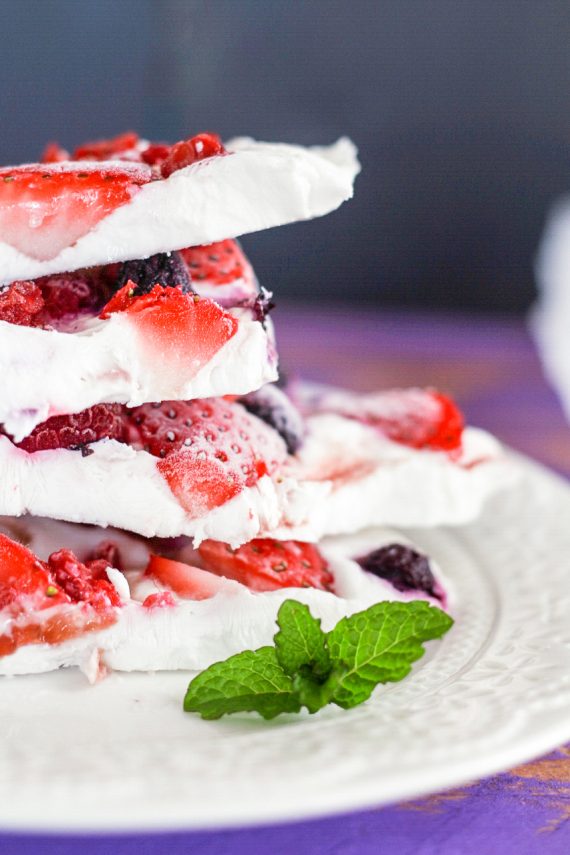 Ingredients
Imperial Units

|

Metric Units
SERVES 10
Berry Bliss Frozen Yoghurt Bark
300
lactose free yoghurt (or coconut yoghurt)*
5
strawberries (fresh or frozen)
15
blueberries (fresh or frozen)
* See the FODMAP Tips, Dairy Tips and Gluten Free Tips for the ingredient notes above the method.
Equipment
Berry Bliss Frozen Yoghurt Bark (Low FODMAP)
There is nothing better than a frozen treat! My favourite at the moment is berry bliss frozen yoghurt bark made from low FODMAP yoghurt and berries. This recipe only takes five minutes to prepare but you will need to freeze the bark for 2 to 3 hours before eating.
Yoghurt choices: This recipe will work with either lactose free yoghurt or coconut yoghurt (if you need to be dairy free). When choosing your low FODMAP yoghurt watch out for high FODMAP ingredients like honey, agave syrup, inulin, high fructose corn syrup, apple juice or juice concentrate, and high FODMAP fruits.
Gluten Free Option
Low FODMAP
Dairy Free
Egg Free
Nut Free
Soy Free
MAKE GLUTEN FREE
SHOW NUTRITION
Nutrition per serve
NON-DAIRY FREE

|

DAIRY FREE

|

GLUTEN FREE
---
Love this recipe? Get your weekly meal plans.
FREE TRIAL
Method

|

FODMAP tips

|

Gluten Free tips

|

Dairy Free tips
---
Method
Line a small baking tray with baking paper. Chop the strawberries into small bite sized pieces.
Mix the vanilla extract through the yoghurt.
Spoon the yoghurt onto the baking tray and spread using a flat knife until the yoghurt is about 0.8cm (0.3 inch) thick. Make sure the yoghurt is thick enough to push the fresh fruit in.
Melt the strawberry jam, then swirl into the yoghurt using a spoon.
Sprinkle over the cut strawberries and whole blueberries, and then crumble raspberries over the top.
Freeze for 2 to 3 hours until hard. Cut using a sharp knife. Store in the freezer in an air tight container.
Buying Tips
Check the coconut yoghurt/lactose free yoghurt for inulin (chicory root) and high FODMAP sweeteners like honey, agave syrup, fructose, fruit juice, or high fructose corn syrup. Also check that your yoghurt does not contain high FODMAP fruit.
Check your jam does not include high fructose corn syrup, fructose-glucose syrup, apple or pear juice, fruit juice concentrate, agave syrup, fructose, inulin, or honey. Instead look for a strawberry jam that is sweetened with sucrose, dextrose, corn syrup or glucose syrup.
Gluten Free Tips
Dairy Free Tips